"People don't realise that when they hurt the environment, they are also hurting themselves"

– Ella-Rose, Dakota and Emelia from Kings Meadow Primary School
This autumn brought the 27th Conference of the Parties (COP27) in Egypt, where the future of the planet was discussed between world leaders, a keystone event in driving collaboration against climate change. Whilst COP27 is primarily a discussion between members of the older generation, we wanted to provide a platform to the generation that will be most strongly impacted by climate change throughout their lives. The conversations we have now will define the future of those currently in primary school, so it is only right that their voices should be heard.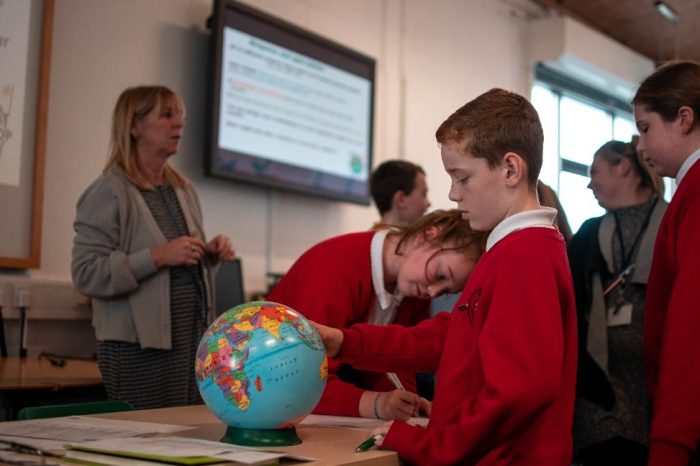 The workshop was sponsored by Merseyside Recycling and Waste Authority as part of an ongoing project to reduce textile waste and waste in schools and brought together Liverpool World Centre and Faiths4Change with six schools from Sefton, and students from the University of Liverpool, in a Model COP27 at Southport Eco Centre. Pupils from each school represented different countries from around the world. They collaborated with each other to understand different ideas countries may have and what they could be doing to push each other to go further. The pupils identified that many emerging countries can only react and adapt to climate change whereas developed countries have the power to change conditions – a conversation that was also happening at COP27 in Sharm-el-Sheikh.
The climate conference participants researched important issues for their designated countries, for example, the sea level rise in the Marshall Islands or pollution levels in cities of more developed countries such as China. They branched off into four groups to discuss four topics most relevant to their climate and issues: energy, cities, forests (and food) and oceans. We have put some of the key points and recurring themes raised during these breakout sessions into a word cloud: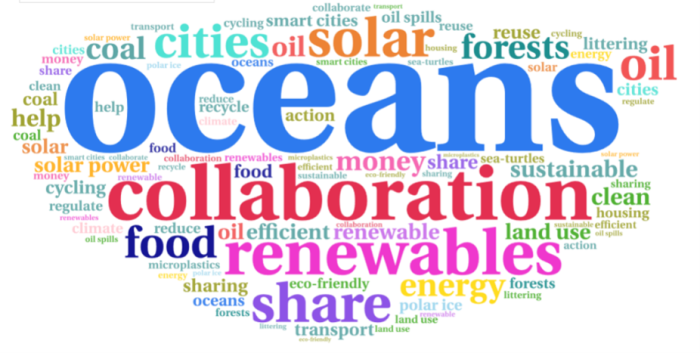 At the end of the day, much like in a UN conference, the pupils came to a shared resolution. Except here it was in the form of pledges. The pupils pledged that they would…
Increase awareness and education around climate change.
share [their] skills and knowledge about [differing impact of] climate change between countries
Develop technology to fight climate change
Persuade governments to cooperate and continue working together
Raise the amount of money for climate change solutions.
The pupils will be taking these pledges forward within their Eco Councils and sustainability projects in their schools.
Young people from Our Lady of Lourdes Primary School spoke to us about the impact their Eco Council has had within their school. They said,
"We are spreading awareness because it is our generation that is affected by climate change the most, and we are the ones who will have to live with it. Children learning from other children is the best way to spread awareness in our community."
Amplifying young people's voices is one of the most impactful things we can do in the battle against climate change. Our future world leaders are learning how to speak up, ask important questions and demand answers. Change starts with a conversation; and not only did this project initiate a conversation between but also sow the seeds for conversations within their families, classrooms, and the wider community.
Pupils also had the opportunity to listen to guest speakers who are established in their fields, inspiring students to use their voices as an important tool for climate justice and inspiring them to work alongside the ideas of the 17 Sustainable Development Goals which highlight the key global targets to create a more sustainable, intersectional, and united world.
One of the guest speakers encouraged Eco Councillors representing their schools to utilise outdoor space, ask teachers to teach more about nature and get as many people involved as possible. This idea was further developed through the pupils' plans for 'Swap Shops' as part of the Great Swap Shop Project, a project promoting second-hand clothes and sustainable fashion as a way of reducing textile waste and the impacts of this on the environment.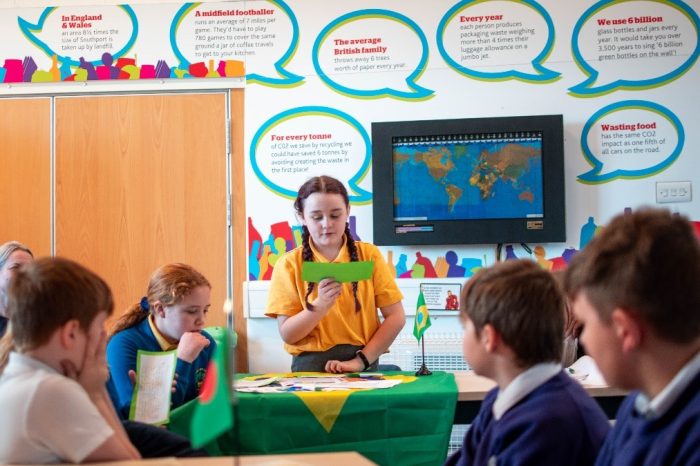 What we take away from the day is that we all have a voice and ideas to contribute in the efforts to decrease climate change and that we can use this voice to put pressure on those in power and encourage more collaboration. Baby 8 billion has just been born, in this context, we must remember the words of UN Secretary General Antonio Guterres at COP27 in Egypt
"How will we answer when 'Baby 8 Billion' is old enough to ask: what did you do for our world and for our planet when you had the chance?"
The following schools participated in this Model COP27: Linaker Primary School, Kingsmeadow Primary School, Waterloo Primary, Our Lady of the Sea Primary School, Our Lady of Lourdes Catholic Nursery & Primary School and St Vincent De Paul Primary School.
This blog was written by Juliet Pone and Lily Eaton who are working with the Liverpool World Centre as part of the Science and Civic Society Award. Juliet is a 2nd year BSc Marine Biology student and Lily is a 2nd year BSc Biological Sciences student at the University of Liverpool.